Whether you're a tradie or a traveller, Aussie ute owners understand the importance of having a reliable and well-equipped vehicle. The HiLux, Ranger and D-Max are the workhorses of the modern day — a common sight around construction sites, mine sites and campsites. Paramount-designed truck tool boxes are suitable for all types of utility vehicles, many with clever drawer storage for essential items. We've talked before about choosing the best toolbox for your trade — but what about a tool box with drawers? 
Ute tool boxes with drawers provide organised storage for your essential tools and outdoor equipment, ensuring that everything is easily accessible and well-protected. Here, we'll guide you through the process of choosing the ideal toolbox drawers for your ute, considering factors like make, model, type, size, features, and installation.
What toolbox type suits your ute tray?
Australian utes usually come in one of three main configurations:
Flat tray

— with no sides or 'bucket' there is virtually no configuration that is out of reach with a flat tray ute. Talk to your installer or a Global Industrial specialist about weight capacity and how to make the most of your space.

Drop sides

— similar to a flatbed/flat tray, here you can access all sides, however you'll need to unlatch and drop the side panels to access configurations with a full-face lid. For this style of ute tray, many opt for a Half Lid Box from the

700H

or

850H

series, which means you can still store your most-used tools or gear in the top section for quick access, provided your tray side is lower than 290mm.

Tub or 'Bucket'

— A bucket will usually be designed to match the cab and paintwork externally, however the rear wheel housings may impede into the load floor space, which can restrict your cargo capacity. Great for hauling loose sand, cement bags or lumber — but unfortunately not suitable for toolboxes with side-opening full-face lids.
Toolboxes can also be fitted to the inside of commercial vans, on a trailer, or mounted on some caravans if desired, with various arrangements possible through Paramount Boxes.
Main types of metal tool box with drawers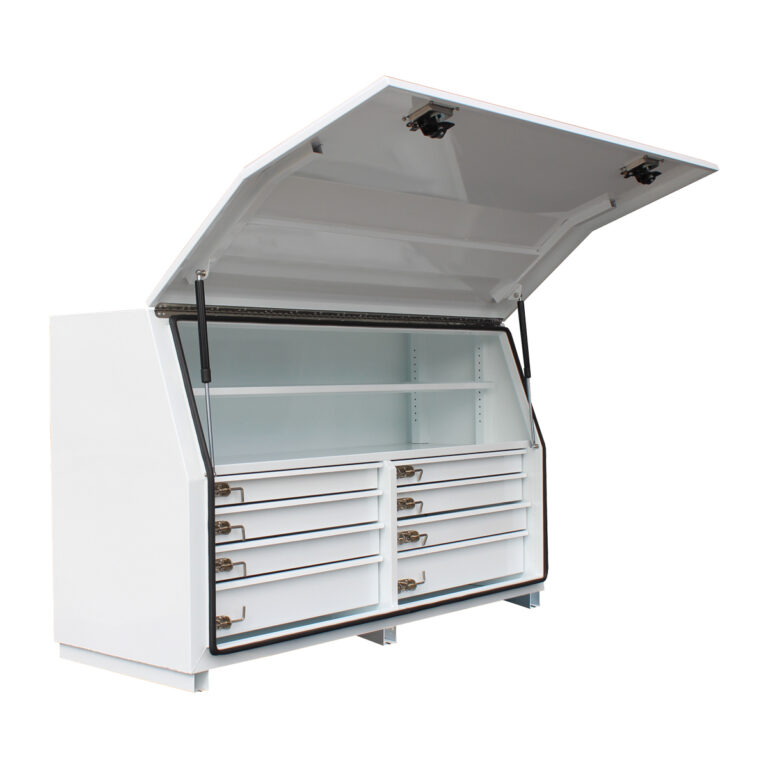 Aluminium or steel: Which toolbox is better for my ute?
When choosing a metal tool box, steel and aluminium builds are the most common, and for good reason. Steel toolboxes are rugged and provide exceptional durability, making them a preferred choice for heavy-duty industries, especially where chemicals may cause corrosion. Aluminium toolboxes are lightweight — so they add less to your Gross Vehicle Mass (GVM) or Gross Combination Mass (GCM) — yet are supremely sturdy with excellent corrosion resistance. 
Aluminium tends to be a preference for those who like to load up their ute or trailer for a weekend of 4WD adventures. The fact they're lighter overall means that drivers can include more ute boxes and camping equipment while protecting the vehicle chassis, which can be at risk with multiple heavier steel boxes when hitting rough off-road terrain.  
For the toughest conditions and treatment, genuine Paramount steel toolbox drawers boast unparalleled ruggedness and are perfect for heavy-duty applications that demand robust protection. 
Before fitting any box, you'll want to do the maths on your GCM/GVM/GTM/ATM, assess your typical workload, and factor in the environmental conditions your ute operates in.

Where should you place a toolbox on a trailer or ute?
Weight distribution is critically important when installing tool boxes on utes, trailers or caravans.
A single toolbox drawer unit will usually be recommended to mount on the passenger side towards the front, balancing the driver's weight on the other side. It may be more convenient to have two similarly weighted boxes on either side, and even an underbody toolbox in the wheel arch to balance out the overall setup. It's also recommended to check your vehicle suspension and tyre pressure after fitting, and before hitting the road. 
If you're creating a custom work trailer or camper trailer, weight distribution makes a huge difference; incorrect weight placement can cause dangerous swaying if nudged, on corners or when overtaking, as the below videos show.
What is the right size and capacity?
Everyone is looking to maximise storage while ensuring that everything is easily in reach. It's important to consider the tools you commonly use and their dimensions. If you're regularly using long handled tools like shovels, rakes or pruning poles, you might want to consider an undertray trundle drawer toolbox that slides out from the rear of the tray.
For full separation, an under tray toolbox is a small tool box perfect for storing dirty gear, straps, tie down gear, wet clothes, wetsuits or rubbish — or to mount a water pump or a small portable air compressor. 
A toolbox with drawers that are too small can lead to overcrowding and difficulty accessing your tools. Overly large drawers might waste precious space. Striking the right balance ensures efficient storage and easy retrieval of your equipment.
Other features to look for in a ute
tool box with drawers
Lockable compartments
Security is paramount; look for drawers with sturdy locking mechanisms to safeguard your valuable tools. Having lockable compartments and looking after your keys when on site or out bush can help prevent incidents like the one experienced by this unlucky couple. 
Quality rubberised seals
Water and dust-resistant seals will help protect your equipment from the elements — including the sliding drawer mechanisms, reducing the smoothness of their operation. If you're comparing a few different brands (but why would you?) take a look at whether the rim around the seals is channelled to prevent water incursion. 
Forklift or jack entry
If you need to take a toolbox out for work on site, or to free up some room for a bulky load, it makes sense to have easy and secure access to forklift loops. Check the size of your lifting forks to make sure it will match the toolbox system you choose. 
All Paramount Boxes 850H and 950H series toolboxes are fitted with removable 50mmx50mm supports to allow forklift access. The added benefits of the forklift channels is ease of installation, no drilling through the toolbox base and it raises the door opening away from the tray floor (because some trays are built with a lip against the side panels).  
Inset smart storage system
The height of drawers will determine what storage system works best. Typically Paramount Boxes' drawers range in height from 64mm to 130mm high, perfect for small hand tools, keeping battery packs separate, and storing boxes of smaller fixings.
The final word on tool boxes
Choosing the right toolbox drawers for your ute is a decision that directly impacts your efficiency, productivity — and enjoyment! By considering factors like toolbox material, size, features, and installation requirements, you can optimise your ute for your specific needs. 
Steel and aluminium toolboxes offer different advantages, each offering security, weather resistance, and ease of access ensures that your tools remain safe and accessible.
Whether you're a tradie, farmer, adventurer or DIY enthusiast, investing in quality toolbox drawers will enhance your ute's functionality and help you tackle your tasks with confidence. Explore your options, and equip your ute with the perfect toolbox drawers that are built for life on site or off road.
Browse our range of genuine Paramount ute tool boxes or contact a Global representative to find the right tool box for your storage needs.