Does your storage need an overhaul? Storage may not seem like a big deal, but it can seriously impact the safety, space and efficiency of your workspace.
Wondering what industrial shelving options are out there? There are many different solutions available, so it helps to have an idea of what you need. Your choice will depend on what you're storing, available floor space, and the processes of your workplace.
We go through the different types of industrial shelving available and tips for choosing the right one for you.
Types of industrial shelving
Warehouse racking
Industrial warehouse racking is multi-levelled shelving designed for large warehouses with bulk storage. Pallet racking holds heavy pallets with a focus on vertical storage to provide easy access for forklifts. Cantilever racking stores long and awkward items such as pipes, timber and rods.
Suits: Large warehouses, distribution centres, manufacturing facilities and retail storage warehouses.
Long span shelving
Long span shelving is designed for small to medium items. It's highly customisable, with the choice of multiple lengths and heights, as well as shelf materials such as chipboard, metal or mesh decks. 
Suits: Retail stores, home garages, shipping containers, distribution centres, manufacturing facilities, mechanical workshops or storage warehouses.
Gondola shelving
Gondola shelving is free-standing shelving that displays small items, usually products. This type of shelving is usually used in retail spaces where products need to be displayed and easily accessible. 
Suits: Retail displays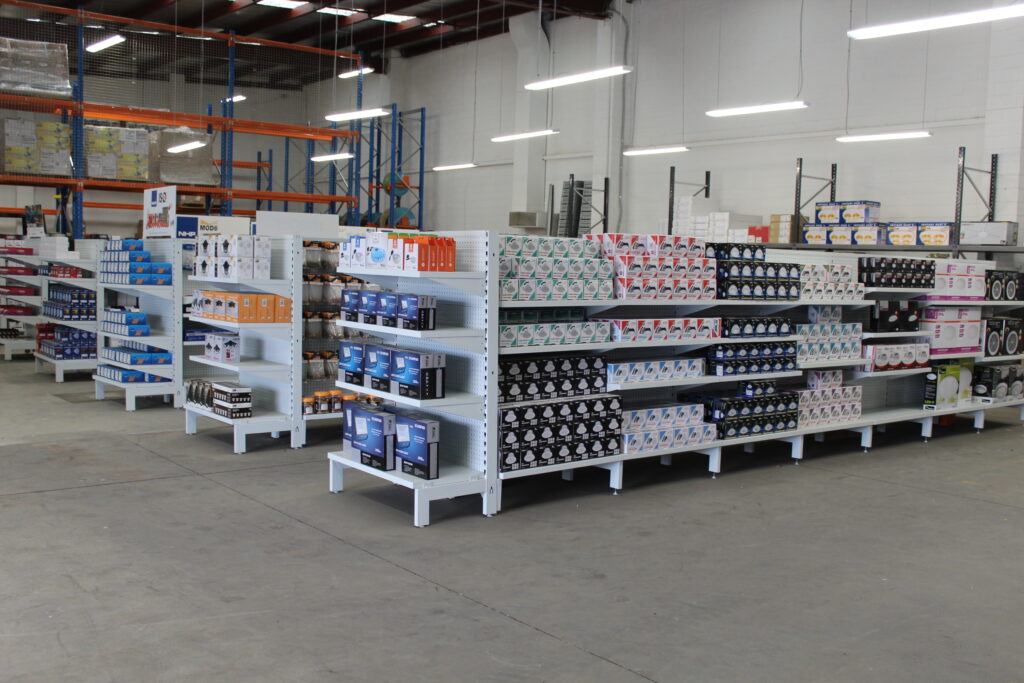 Light Duty Rivet Shelving
Light duty rivet shelving has an electro galvanised surface treatment (also known as zinc plated), which means it can be used for coolroom or freezer shelving. It also comes in steel, mesh decks and chipboard. Light duty rivet shelving is available in a wide range of heights, lengths and depths. The shelf material is removable for easy cleaning.
Suits: Archive storage, storerooms, parts storage, workshops and coolroom shelving.
How to choose the right industrial shelving for your workplace
So how is your industrial storage looking? Can you find items easily? Could you cut back on clutter? We recommend assessing your workplace to identify how your storage can be improved – this will help you choose the right storage system for you. 
When choosing your new shelving, we recommend keeping in mind the following:
Supply
Of course, the obvious thing to consider when choosing shelving is what you're actually storing. If you're storing heavy, oversize items like boxes on pallets then you'll need to look at a pallet racking system first. 
If you're storing smaller items, you may want to opt for Global RUT Shelving, which is a simple steel shelving system with modular bays.
Are you looking for shelving for your coolroom? You'll want a non-rust material and shelves you can remove for cleaning like rivet coolroom shelving.
Efficiency
Efficient workplaces have a few key things in common – defined processes, productive workers and accessible storage. The latter affects the first two. When your tools, supplies or inventory is organised and easily accessible, your team becomes more efficient. 
If you've noticed it's hard to find supplies or tools in your workplace, choosing industrial shelving with high visibility will cut the time you spend looking for items. Mesh Deck Longspan Rivet Shelving allows staff, especially forklift drives, better visibility.  
If you want to organise your inventory or parts in your workshop, Global RUT Shelving has modular bays, which allows for easy item categorisation. 
Space
Space is a big issue in industrial settings. A cramped warehouse can be unsafe and lead to disorder. Storage should maximise space, not take up too much of it. 
So how can you maximise the space in your work environment? By investing in warehouse storage racks with more height. Our selective pallet racking can go up to 7315mm but we can also provide taller heights on request. 
Another way to maximise space is to think about reducing the width of your shelving so it takes up less aisle space. We recommend choosing customisable storage that you can tailor to your floor plan. Longspan shelving offers a range of lengths, heights and widths and can be tailored to your warehouse layout. 
Strength
If your warehouses store heavy items, such as engine parts or heavy tools, you shouldn't be scrimping on industrial shelving. You'll want a strong and durable storage system that won't end up sagging under the weight of your items. 
Medium and heavy-duty cantilever racking suits construction materials and long awkwardly shaped items and pipes, as it can hold up to 1000 kg per arm depending on the setup. 
Opting for metal shelving instead of shelving with boards such as Mesh Deck Longspan Rivet Shelving is also a good bet. This shelving can store up to 140 kgs. Always check the weight capacity of your shelving before you commit to buying it. 
Get the best industrial shelving for your business
Global Industrial is Australia's leading supplier of storage systems. We know your industry and can help you find the best storage for you. 
Get in touch today to chat with our team, located in Perth, Melbourne, Brisbane and Sydney.